One of the most popular accessories for classics MGs is a battery cut-off switch – it not only acts as a safety device it is also a simple security system and helps to prevent the batteries draining when unused for long periods of time.
For such a useful addition the cut-off is a simple, quick and relatively inexpensive extra – and over the years Roger has fitted plenty of them.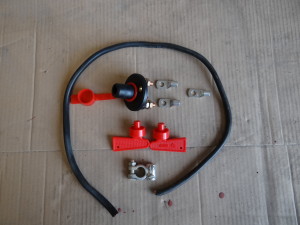 It uses a heavy duty switch, a key to operate it (normally red), a battery terminal connector – a new one is advised but you can re-use the existing one if in good condition – and two sections of heavy duty battery lead with cable terminals, one to connect to the positive terminal on the battery and one to earth it to the vehicle.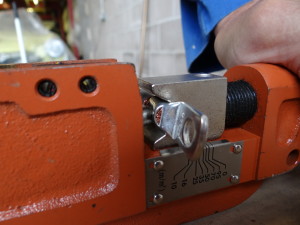 Roger cuts the required length of cable from a roll and then attaches the terminals using a special crimping tool (above) – without this, something like a vice will do the job but not as neatly. The sections where the leads meet the connectors are covered with a protective rubber sleeve which is heated to seal.
First decision is where to locate it – best place is closest to the battery or batteries so that there is the shortest length of lead possible. On chrome bumper, twin six volt battery-fitted MGBs this is on the bulkhead behind the passenger seat, on rubber bumper single battery MGBs on the bulkhead behind the driver seat and on Midgets where the battery is in the front of the vehicle, under the dashboard.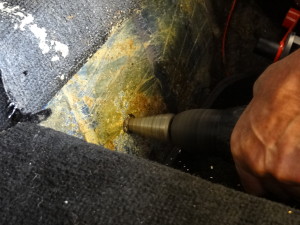 To install you need to pull back the section of carpet on the bulkhead and then drill an inch diameter hole (Roger uses a step drill) to fit the exposed end of the switch and two holes either side to bolt it into place.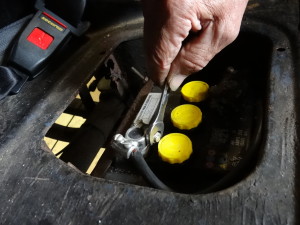 Once fitted, the leads can be connected to the terminals at the back of the switch – one going to the positive terminal on the battery and one to an earthing location on the car.
A convenient place on MGBs fitted with battery cradles is on one of the cradles where there is often found a pre-drilled hole. Roger recommends cleaning the location back to bare metal and using a serrated washer to give extra contact with the body. Finally spay the connectors with battery terminal protector.
.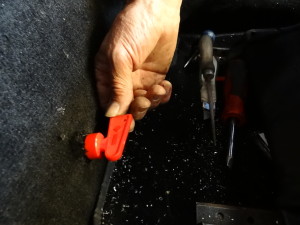 Roger charges £60 including VAT to supply and fit the cut-off switch and the task takes about an hour. Alternatively, if you think you can do it yourself the switch and components costs £25.