At this time of year the big battle that both classic and modern MG owners face is the one against rust as cars negotiate damp and salt-sprayed roads – this is where under body protection becomes vital.
As well as classic MGs, Roger Taylor offers a waxoil treatment for MGFs and MG TFs that should protect the meal components under any vehicles for years to some.
The advantage of using a fully equipped garage, such as Roger's, is that the vehicles can be  the raised to a convenient working height. But before doing that you need to remove the wheels.
Any areas of visible rust should then be removed using a stiff wire brush before applying a coat of rust converter using a brush to stabilise any vulnerable areas.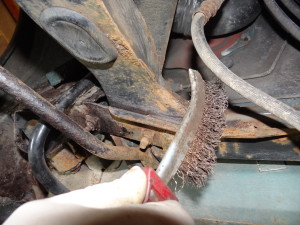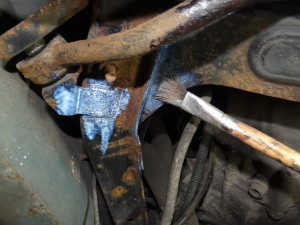 Once the fluid has been applied the drying process can be speeded-up using a hot air gun or heater – but be careful with heat near areas such as fuel and hydraulic pipes.
Before applying the waxoil it is a good idea to cover the exterior of the vehicle to protect from any accidental over spraying. Roger uses a low pressure compressed air spray gun to prevent an excess finding its way onto paintwork.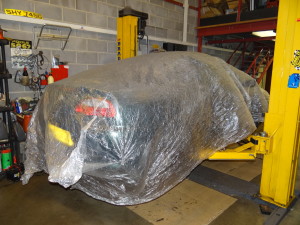 Although there are several waxoil products on the market Roger recommends using the Wurth canisters as years of experience have proved these are the best - you will need at least a litre of waxoil for a generous covering on a model such as the MGF.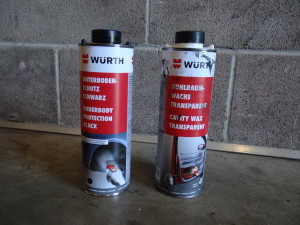 At this time of year they may need warming to ensure a free flow of the waxoil – trying sitting the canister in a bucket of warm water.
Using a fine length of tube Roger sprays an even and steady coat of the waxoil on all the exposed surfaces – a curved end to the tube allows access to concealed areas as well. Remember always to wear a mask and eye protection when spraying.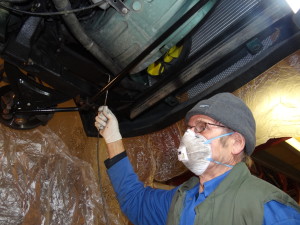 As well as underneath, the waxoil can be applied to areas in the wheel arches, taking care not to spray the brake discs – if this happens it can be cleaned off using a degreaser.
In addition to the underbody it is advisable to have the panel and door cavities treated with a transparent waxoil – this can be done at the same time or separately.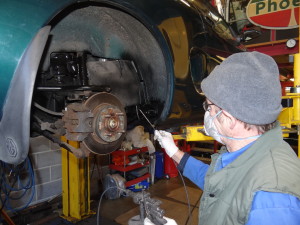 The length of time the whole process takes will depend on how much rust has to be removed and treated – and this manual process can take several hours.
Roger quotes between £200 and £300 plus VAT for the underbody waxoil process including labour and all materials. Treating the cavities takes a little longer and costs around £230 but if done at the same time as the underbody the cost will be less.